BEST CUSTOM MOUTHGUARD FOR RUGBY LEAGUE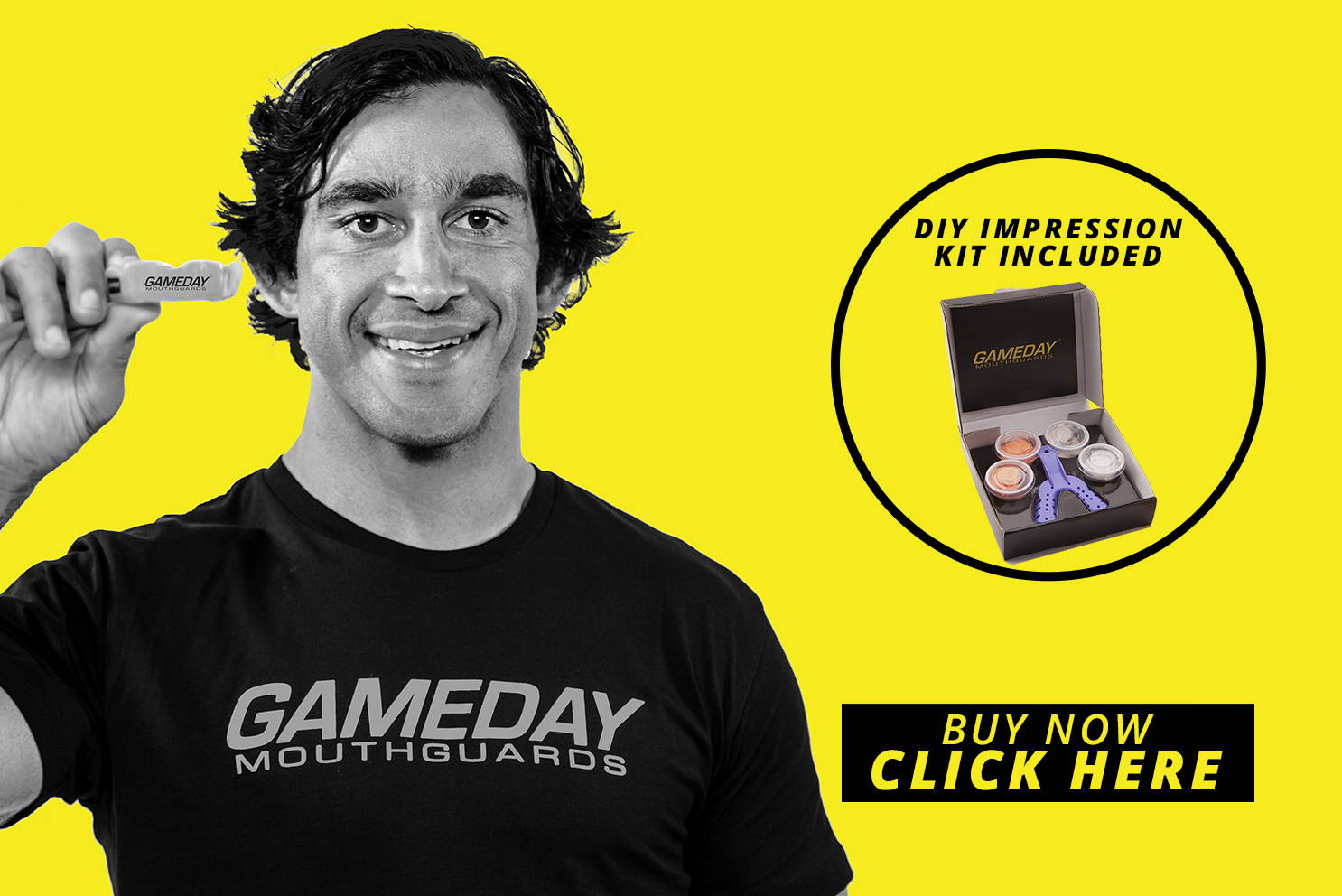 ---
---
---
FAST, FREE DELIVERY
Australia-wide. Order today and you'll receive your impression kit in a few days.
We use Express Post and tracking is available.
7 DAY MONEY BACK GUARANTEE
Not happy with your mouthguard? Let us know within 7 days and we'll refund your money.
MADE IN MELBOURNE
Our mouthguards are custom made in our own dental lab in Melbourne by qualified dental technicians.
🇦🇺
---
BUY YOUR CUSTOM MOUTHGUARD NOW
Serious about your rugby league? You need to properly protect your teeth.
In the past, that's required a trip to the dentist but not anymore. With our DIY home impression kit, you can do your dental impression at home and get a custom mouthguard for a fraction of the price of a dentist mouthguard.
We even offer a 7 day money back guarantee, if you're not happy with it.
What are the main benefits of a Gameday custom mouthguard?
🏈  Custom fit - to fit only your teeth
🏈 Made in Melbourne by dental technicians
🏈 Easy to use at-home impression kit
🏈 Fast, FREE delivery
🏈 7 day money back guarantee
🏈 You're covered up to $12,800 with our Teeth Protection Guarantee
🏈 Available from selected INTERSPORT stores
Check out out range of custom mouthguards below.
---
---
WHICH GUARD SHOULD I BUY?
This will depend on your budget and the sport you play.
Our Starter is popular with kids , people just starting out in league, and those on a budget.
The Pro is our best seller and that's because it offers the right level of protection, especially if you add the lower jaw upgrade. A great guard if you take your footy seriously. In fact, Johnathan Thurston, Tariq Sims, Allana Ferguson, and Danny Levi all wear one of these.
Finally, there's the Xtreme , which is for the player that likes to go hard , and wants all the bells and whistles.



---

---
HOW DOES THE IMPRESSION PROCESS WORK?
Doing your dental impression is actually really easy. Watch this video featuring our ambassdor and AFL legend, Gary Ablett. (Should we do one of these videos with JT or another league player, you reckon?) Don't worry, if you stuff it up we can send another kit for FREE.
---
HOW DOES THE 7 DAY MONEY BACK GUARANTEE WORK?
If you get your new custom mouthguard and don't like it, it doesn't fit properly, or you change your mind, we're happy to refund you. All we ask is that you send the mouthguard back.
We want you to be happy with your purchase and are so sure you will be, that we back it with this guarantee.
HOW DO I ORDER?
Simply click here and select which mouthguard you want to buy.
Alternatively, give us a call on 08 8470 0235 and we can take your order over the phone.
---
TESTIMONIAL
"Thanks for the excellent product which protected my teeth last weekend in a hockey match. I was hit by a hockey ball to my teeth firstly and hit to my eye. Luckily, the mouthguard protected the teeth completely. Thanks for the service that cause me no need to pay a lot in dental and pains."
- KASPAR
"Cannot speak highly enough of the team at Gameday mouth guards. Needed a new mouthguard for our daughter quickly and after doing my research on boil & bite generic ones wasn't comfortable going down this path. Gameday provide a great financial compromise to dentist fitted guards, and we are extremely happy with the finished product. Special thanks for allowing us to pickup the kit and drop it back to reduce a few days from the process. We'll certainly be using your services again, as the young growing mouths continue to get bigger!"
- MARTIN
By the way, you can read more ⭐⭐⭐⭐⭐ (5 STAR) reviews from our customers over on Facebook.